Vertical Blinds are a more traditional solution, and here at Lakeview Blinds, Awnings & Shutters, we have been satisfying our local Newcastle, Maitland, Hunter Valley, Port Stephens and Central Coast customers for years with our fabulous range. If your looking for a fantastic way of controlling the level of light in your room, then Vertical Blinds offer an affordable option for maintaining your home's privacy.
We can make Vertical Blinds to suit your specifications and have three slat sizes available to choose from including 89mm, 100mm and 127mm with the added option of chains if you prefer. They are manufactured with a choice of four different bunching options which are left, right, centre bunch or they can bunch at each end.
Easy to keep clean Vertical Blinds make a great option for any room in your house, even the ones that are more likely to get messy.
From neutral tones to textured patterns, our Vertical Blind collection comes in a vast range of designs and colours. Perfect for larger windows and patio doors, you can control the light with a simple twist and, with a blockout backing, enjoy beautiful shading when the sun gets too much. Our Vertical Blinds are stylish and smart.
Choosing Lakeview Blinds, Awnings & Shutters for your vertical blinds online means more options for you. If you have pets or children, you might prefer chainless blinds.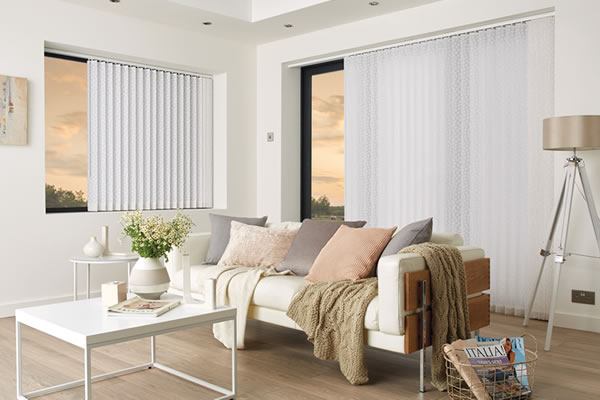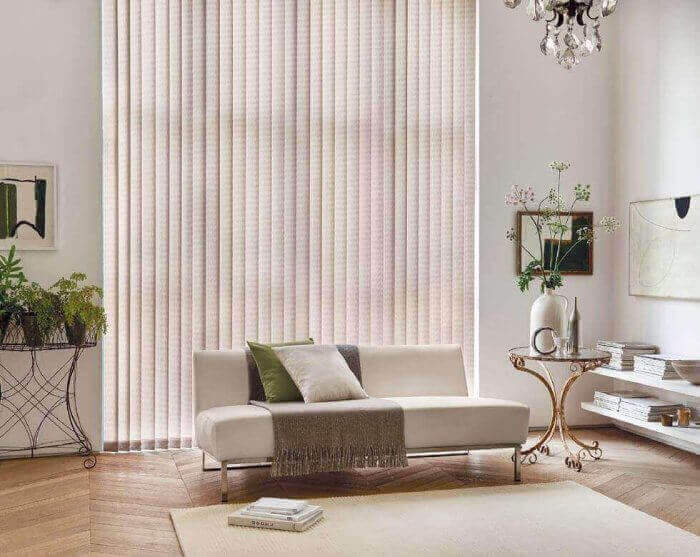 Vertical Blinds - Sunset Blockout Colour Selections
Click to view full swatch.
Colour Charts should only be used as a guide to the colour range and for the difference between colours. Colours often appear differently on different screens or monitors. Please always confirm your colour choice by sighting the colour swatches available in-store before making a final decision.
Love it? Humm it. The bigger buy now pay later service. We offer Humm for all our products.
Vertical Blinds - Inspiration Gallery
**The product images shown are for illustration purposes only and may not be an exact representation of the veri shades blinds product.**
See what our customers are saying...


So happy with the service and quality. My panel glide suits my french doors and windows perfectly. The shutters in my bedrooms look amazing. Thank you to the team at Lakeview. Installed on time, everytime.
Megan Boardman


My shutters we installed yesterday = perfection. Love, love, love them!
100% recommend Lakeview Blinds.
Hillary Maccaruthur


Lakeview Blinds at Warners Bay put blinds in our new home. I am very happy with the service and the time we were told it would take. Thank you very much, it was just the last touch to making our home look great.
Christy Standen


This business provided me with contacts for an alternate product even though at this point, it did not involve a sale for them. I would definitely consider using them in the future for blind and shutter products.
Lyn Pritchard


I recommend Lakeview Blinds to all my friends and family. Each time I have a visitor they always complement the beautiful shutters in my house! You couldn't beat the service unless it was with the quality of the shutters! My daughter has just recently ordered some for her own house because she loved mine so much.
Linda Smith