Protect your outdoor living areas from the harsh sun and rain with awnings from Lakeview Blinds and Awnings Newcastle and Lake Macquarie. Available in a range of styles, fabrics and colours, our awnings allow you to extend your outdoor living areas, provide shelter from the sun and rain and add value to your home or business. Our modern window awnings are a great addition to cover up undesired locations such as staircases, backyards and balconies. Lakeview Blinds is your local manufacturer of high-quality awnings.
We provide our specialist services in Newcastle, Maitland, Hunter Valley, Port Stephens and the Central Coast. We stock the largest collection of the best brands, including: Folding Arm Awnings, Alpha Awnings, Ziptrak® Awnings, Straight Drop Awnings, Auto Lock Arm, CARB.O.LITE Awnings, Roller Shutters and Fixed Awnings to suit your personal taste. Lakeview Blinds and Awnings Newcastle NSW.
Provide protection
from UV rays.
Ideal for cafes,
restaurants and bars.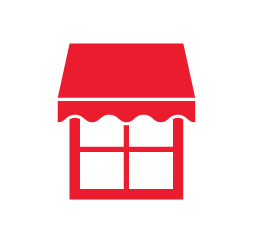 Contemporary or traditional styles to suit your taste.
Search our collection of Awnings available in Newcastle NSW - Ideal for patios, terraces an closing outdoor entertainment areas
Offering both fixed and retractable options, we are specialists at manufacturing high quality Awnings. Available in a range of styles, fabrics and colours, our awnings allow you to extend your outdoor living areas, provide shelter from the sun and rain and add value to your home or business. 
**The product images shown are for illustration purposes only and may not be an exact representation of the displayed product.**

View the largest range of Awnings Newcastle in our new showroom

Come and visit our recently renovated showroom at Warners Bay. See, feel and touch the best range of high-quality blinds and awnings in Newcastle and the Hunter Region and be inspired for your next project.
Beautiful, functional & modern window furnishings to suit your home
Easily outfit your home with unique awning solutions with the support of our expert Newcastle NSW team. At Lakeview Blinds, Shutters and Awnings we offer our customers the opportunity to create something unique which compliments your individual style and elevates your home. With a range of quality shading solutions on offer, and the freedom to make choices that best suit your home and tastes, Lakeview Blinds and awnings Newcastle is the place to look for your blinds, shutters and awnings in Newcastle NSW.
When it comes to blinds, awnings and shutters, Newcastle locals turn to us for industry-leading expertise and stunning designs. From the design and consultation phase to construction and professional installation we'll make the entire process smooth and hassle-free and deliver the perfect shading solution to complete your home, and with the majority of our products being Australian-made, you can trust the quality and craftsmanship to last the test of time.
It's easy to get started. Simply get in touch today to arrange your free measure and quote with our expert Newcastle team.
See what our customers are saying...

Great price and great service. We used Lakeview to supply and install a new security door and awnings to two windows. We had no issues with supply or installation and 6 months later are still very happy.
Charlotte Poposki


I am so very happy with my new awnings, they look great. The service was great. Not just person who measured them and the person who installed but also the office staff were incredible, very friendly and reliable. Thankyou Lakeview Blinds and Awnings.
Beryl Isberg


Thankyou to Lakeview for their excellent service for installation of six awnings. the process from quotation to installation went efficiently and smoothly. The Admin staff in the office were friendly and helpful. a delightful assessor was very helpful with advice on style and color as she provided the quote. The end product for our home is enhancement of style which blends with the house and provides shade and privacy. well done team
Lyn Kramer


We had a custom made awning made to go over a back door & bedroom window where the weather would come in. Pleased to say it has kept the rain off & survived a hail storm.
Madalen Baltussen


We recently had a Ziptrak Awning professionally installed on our back deck, and we were thoroughly impressed with the quality of construction and the installation process. The Awning was definitely worth the investment, and we expect it to endure for years to come. Without a doubt, I wholeheartedly recommend Lakeview for their exceptional service.
Peter Kutas


Tricky installation for external Ziptrak blinds over a large span. Glad we used Lakeview. Installers experience resulted in a top quality installation. From quote to installation very happy.
Richard Wallis